Be ready. Our New Year's Day is coming up. We say, Shubho Naba Barsho.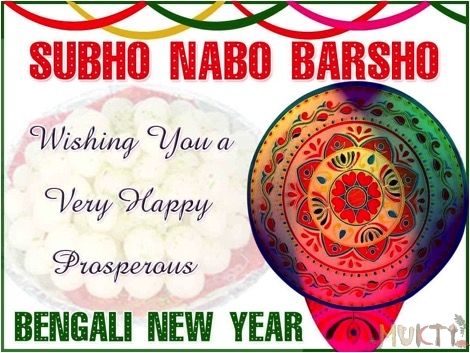 The First Day or Pahela of a Bengali New Year happens in the middle of April. Indian calendars are lunar calendar, and the first month is called Vaisakh. The Bengali New Year therefore is called Pahela Vaisakh.
On the calendar, Vaisakh is the first month of a two-month summer. Scorching summer. In some places, it can reach up to forty degrees…maybe even forty five. Which is well above 100 F. Then appears the famous Bengali monsoon cloud with its famous, continuous rain, thunder and country floods. Frogs flourish. In remote villages, snakes flourish too. Monsoon also goes on for two months. Monsoon is followed by a beautiful, sunny autumn.
And so on.
Pahela Vaisakh, the New Year's Day, is well known for its food and festivities. In other parts of India also, such as Punjab in the north or Assam in Far East, this day is celebrated with much fanfare. In southern state of Kerala too, this is an auspicious day.
In Punjab, it's called Vaisakhi.
Bengalis love their food, and they love their festivities. The gods and goddesses have blessed Bengal – both the province of West Bengal where I came from, and also East Bengal that is now known as Bangladesh. My parents came from East Bengal, after the British partition.
In the Hindu Bengali community, Pahela Vaisakh is celebrated with a religious offering or Puja to Ganesha, the god of success. Traders and merchants in particular have their observance, before they ceremoniously begin their yearly accounts book. In Bengal, they call it Haal Khata, or the new ledger. Small traders and shopkeepers, whether it's a sweet shop, grocery store, neighborhood book publishing business or a tiny hairstyling saloon, the owners make sure the decorate their shop with the ceremonious banana plants adorned with the sacred vermillion or sindur. The puja ritual is done inside by a Brahmin priest, and then the trader would have abundant food and particularly sweets to give away to local children or guests whoever show up that day.
In a few places in India, people also fly kites on the New Year's Day to celebrate the festivities. India is a very diverse country, where you can find different customs and cultures only a hundred miles apart. Some places fly kites. Some others places perhaps have a rowing competition.
Food, of course, is an integral part of any religious or social festivities in India. Bengali or Punjabi or Assamese New Year's Day is no exception to the rule. But on the two sides of Bengal, food has assumed a very rich role in these festivities.
Many people in Bangladesh celebrate Pahela Vaisakh with an exotic combination of rice soaked overnight in water they call Pantaa Bhaat, and a special preparation of the famous Hilsa fish. There, they call it Ilish. The major rivers such as Ganges in West Bengal and Padma in Bangladesh are lush with this beautiful, shiny, silvery fish that is absolutely mouth-watering. No Bengali New Year's Day celebration is complete with Pantaa-Ilish. It is a must. Add some hot green chili to the mix. That is, if you can take it.
Ilish is cooked in many different styles in different parts of Bengal. Some bake it with special spices. Some put pieces of the fish coated with turmeric and salt in a soft banana leaf, and slowly cook it inside an earthen pot on a very low charcoal heat. The baked Hilsa is known as Bhapa Ilish. Some cook it with a generous amount of mustard seed paste, mixed with green chili. That curry is known as Sarisha Ilish. Then, some others would not wait much longer once the fish arrives either from the village river or from the city market. They would cut it delicately in large pieces, and deep fry in mustard oil.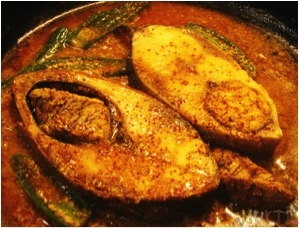 Absolutely heavenly – all of the above.
And of course, no lunch or dinner is complete in India and Bengal without its fabulous desserts. There are so many varieties of desserts and sweets there that one would simply keep counting them for the rest of their lives.
And mangoes. A very big part of the Bengali celebration. Unending varieties of mangoes, too.
That's how life is like back there: full of food, full of fun, and full of family and friendship.
Be a part of this wonderful celebration.
Shubho Naba Barsho.