In late February and early March, my husband and I traveled to Bangladesh. It was my first visit to that country. I loved every minute of it.
Bangladesh is now a separate country, thanks to the traumatic partition by the British that divided the province of Bengal into two countries. Yet, those of us who were born in West Bengal, India share a thousand years of common history with East Bengal, which is now Bangladesh.
My parents were born and raised in Dhaka, but never able to go back and visit their ancestral places. Until their death, they lamented about that permanent departure. I wanted to make it up for them, and took this opportunity to pay a visit to the villages where they spent their youthful years. To our great surprise, with help from some kind people we met there, I was able to identify their old neighborhoods – both in urban Dhaka and rural Bikrampur. It was an emotional reconnection with the past.
Our host Shahidul Islam (a Muslim) and his friend Uttam Debroy (a Hindu) met us at Dhaka airport, and put us up at their friend Subrata's apartment in a well-to-do neighborhood in Dhaka City, a sprawling metropolis. After staying over for a couple of days, they drove us to their countryside residence in Sylhet, a very beautiful, green village. The house was surrounded by large ponds, and hundreds of mango, jackfruit, palm and coconut trees. Birds chirped all day, and a gentle breeze cooled us at night. The two kind hosts made our five nights of stay at their place extremely comfortable.
Their attendant – a Muslim whose name was also Muslim , and a cook named Naseema – made sure we had every little thing arriving in no time. Naseema cooked Hilsa, carp and other famous Bangladesh fish caught right from their pond (no chemicals). Muslim brought fresh bananas, papayas and jackfruit right off their garden.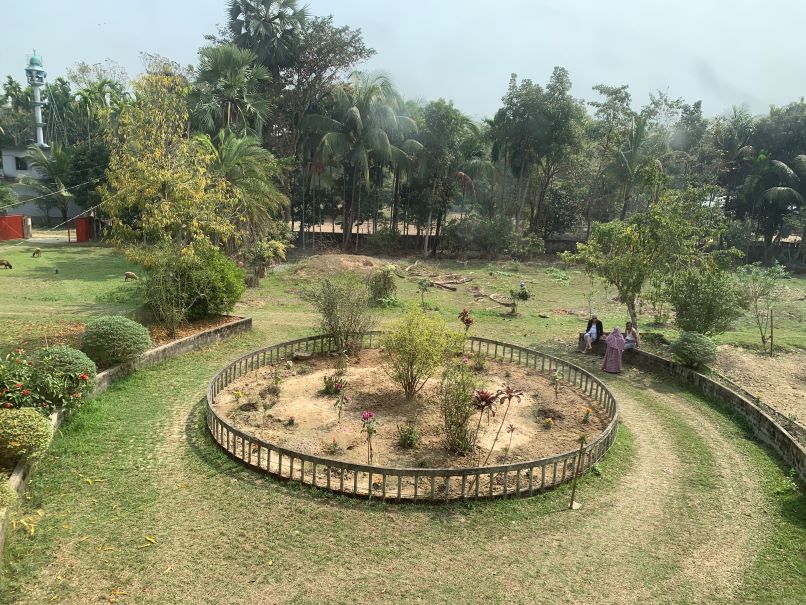 We also met Naseema's daughter Shipa, who didn't have a cell phone and couldn't attend online classes during Covid, but ranked first in her eight-grade class. She wants to study English in college, and my husband showed her the free English class he teaches online. Hopefully, they will find a way to get a cell phone with Wifi in the future.
We visited a number of friends – both Hindus and Muslims living together peacefully – in various parts of rural Bangladesh. We visited the famous, vast tea gardens in Sylhet and Srimangal. We were told no poor, hardworking tea-leaf laborers died of Covid because of various reasons, one being their powerful immunity system and food habits. It was truly an eye opener for us.
We visited some museums and memorials erected for the fallen martyrs of the 1971 Bangladesh liberation war. After a short but memorable eight days, it was time for us to return to Kolkata.
But these two hosts would not let us return to Dhaka from Sylhet – a six-hour drive – by ourselves. They accompanied us all the way to the airport, and made sure we caught the plane safely and on time. Then we left for Kolkata, and it was time for them to take another six hours of drive to return to their village in Sylhet.
That is how Bangladesh is. I shall forever remember my first trip to my parents' ancestral land.